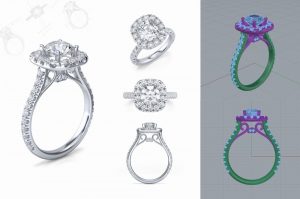 If you're looking for repurposed jewelry ideas, you've come to the right place. The experts at the Jewelry Design Gallery can transform your older jewelry into a completely new design. Whether you have a family heirloom ring, gold jewelry that could use an update or diamonds from an engagement ring you no longer wear, we'll help reimagine these pieces into something new that you'll love to wear.
Making Jewelry Out of Old Jewelry
Vintage jewelry is always on trend, which means making jewelry out of old jewelry is, too! You can turn a piece that's been sitting in your drawer for years into something chic, gorgeous and totally you! Maybe you inherited your grandmothers ring but it's not quite your style or you discovered a slightly damaged treasure at a garage sale. Whatever you have, we can transform it into something special.

Just bring your old jewelry to the Jewelry Design Gallery and our professionals will consult with you one on one. We'll advise and recommend design options or show you how we can turn your vision to life. Here are some of the most common repurposed jewelry ideas:
Replace damaged or missing stones with new ones
Create a new setting with stones from an old piece of jewelry
Update your gold jewelry into a more modern piece
Create a new ring out of a pair of earrings
Turn a charm into a pendant
Restring pearls or combine with other pearls for a new design
Keep the gemstones of a silver piece and place them in a gold setting
And more!
With the Jewelry Design Gallery, the possibilities are endless. You can keep the best parts of your antique family heirlooms while keeping the tradition alive. Lose the damaged stones in your bracelets and gain a beautiful piece that's completely on trend. Let's make something beautiful together!
Visit us at the Towne Pointe Shopping Center on Rt. 9 S in Manalapan, NJ, or call us today to schedule an appointment 732-536-1184.