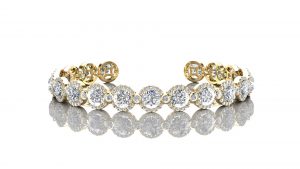 For the largest selection of beautiful bracelets for women in a variety of styles such as the popular diamond tennis bracelet or any type of diamond bracelet, come to Jewelry Design Gallery!
In the bracelet and jewelry business for over thirty-three years, we offer our customers:
– Top selection of styles such as the tennis bracelet or any type of diamond bracelet
-Jewelry repairs: if your diamond tennis bracelet or any other kind of bracelet needs repair, we are a full-service jewelry shop and do everything in house!
– Appraisals: looking for a certified appraisal? Come to our shop for appraisals on bracelets for women and any and all jewelry! Our appraiser is a GIA certified gemologist!
Custom Bracelets: Beautiful Designs in Whatever Your Heart Imagines
No matter how you dream up your tennis bracelet or diamond bracelet, our shop will bring it to life!
With the latest in 3-D printing technology and a GIA-certified CAD/CAM expert jewelry designer on staff, we cast amazing custom bracelets in gold, platinum and set with any stone! From conception to reality, we work one-on-one with our customers from original molding, to casting to setting stones for all of their custom bracelet jewelry needs.
Come see what our full-service jewelry shop can do for your custom bracelet dreams in classic or elaborate styles, from diamond tennis bracelet to gold bracelet styles.
Call 732-536-1184 or visit us today in the Towne Pointe Shopping Center off Route 9 in Manalapan NJ.