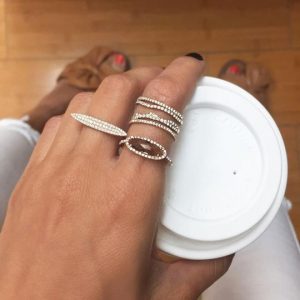 When it comes to fine fashion jewelry, quality is paramount. At the Jewelry Design Gallery, we go a step beyond, crafting the highest-quality stones and precious metals, including gold, sterling silver and pearls. Whether you're looking for stackable rings, a trendy pearl necklace, completely custom design, you can be sure your jewels will endure with proper care and treatment.
From Layered Necklaces to a Stunning Strand of Pearls
Unlike costume jewelry, fashion jewelry is usually reserved for special occasions, such as weddings, birthday dinners, or other engagements. Unlike costume jewelry, you don't have to worry about taking these jewels off when you sleep, shower, or exercise. This is especially true of the Jewelry Design Gallery's fine jewelry. It's timeless, will never tarnish, and can be worn day in and day out.
What's more, our rings, bracelets, earrings, and necklaces can be re-sized and repaired easily by any our skilled jewelers anytime you desire. If you're looking for the finest fashion jewelry for yourself or as a gift, consider investing in some of the following staples:
A trendy pearl necklace or earrings
Gold bangle bracelets
No matter what type of fashion jewelry you're looking for, you can find it or design it at the Jewelry Design Gallery. Visit our showroom or give us a call at 732-536-1184.