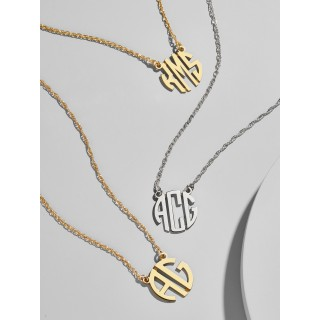 Personalized jewelry has been admired since ancient times when prehistoric cave dwellers created significant pieces using feathers, polished bones, stones, and bits of wood. Today, this jewelry trend has come a long way, while remaining a beloved accessory for self-expression. As always, the Jewelry Design Gallery has the highest-quality selection with your name on it.
The Destination for Personalized Bracelets, Necklaces, and Rings
Any piece of jewelry is a form of personal expression, but personalized jewelry takes it a step further. If you're looking for a gift, a shared piece with a friend or lover, or simply want your name in bold gold, we have what you're looking for.
At the Jewelry Design Gallery, we can customize anything, including:
Name Plate Necklace – Sarah Jessica Parker re-popularized this look as Carrie Bradshaw on Sex and the City, but this trend dates back to the 1980s. Since then, the scripted name plate necklace has been popular with people from all walks of life.
Monogram Rings – These simple yet stylish personalized pieces gained popularity on the fingers of celebrities like Taylor Swift or Carrie Underwood. Make monogram rings your own by rocking your own initials, highlighting family ties, or wearing a ring that includes the initials of a loved one.
Initial Necklace – Speaking of initials, the initial necklace is in high demand with people of all ages. Meaningful and personal, these pieces can feature a single letter or multiple, designed in a unique shape and material that goes with your style.
Personalized Bracelets – All of the above can be created as a bracelet as well. Perhaps you have family heirlooms that would fit nicely as part of a charm bracelet or maybe you have an old bracelet you'd like to make new with your own personal flair. Whatever you imagine, we can create it.
At the Jewelry Design Gallery, we know that everyone appreciates a thoughtful gift. Whether you're looking for something special for yourself, a friend, or a loved one, personalized jewelry is always on-trend and always available at our showroom. Visit us today.