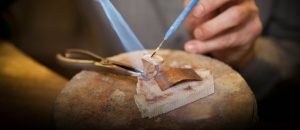 That gold charm bracelet you've owned since your Sweet 16, the watch passed down to you from your grandfather, the diamond earrings he gave you on your first anniversary. These are more than pieces of jewelry…they're memories. When your favorite necklace, watch or bracelet gets damaged, the Jewelry Design Gallery will be there with reliable onsite jewelry repair service to bring it back to life.
Providing same day jewelry repair service. Submit form below to schedule your appointment.
Trusted Since 1984 for Necklace Repair, Earring Repair and Beyond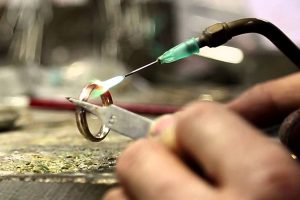 If your precious heirlooms and jewelry pieces require repair, you want them handled by only the most experienced and talented professionals. At the Jewelry Design Gallery in Manalapan, NJ, you get this and more. While most jewelers aren't equipped or skilled to service fine or delicate pieces, our knowledgeable experts are trained to evaluate, prepare and care for all jewelry with special attention. Since 1984, our onsite jewelry repair has earned a reputation for precision and personalized service that you simply can't find anywhere else.
From earring repair to resized rings and jewelry cleaning, we are committed to reviving your valuables with the most meticulous care. And because your time is just as valuable as your jewelry, we work with you one-on-one to repair it quickly. Our full-service jewelry repair services include:
Polishing
Ring Sizing
Necklace Repair
Chain Repair
Earring Repair
Bracelet Repair
Stone Replacement and/or Re-setting
Re-Mounting
Custom Jewelry Repairs/Redesigning
Pearl & Bead Restringing
Fashion Jewelry Repair
Stop by Our Gallery Today
Whether you damaged your piece today or it's been sitting in your jewelry box collecting dust, our jewelry repair service is here to help. We'll work with sterling silver, platinum, 18K, 14K, 10K, white, yellow or rose gold with master expertise and impeccable customer service. For a free estimate, call 732-536-1184 or visit us today.
Questions on Your Jewelry Repair?