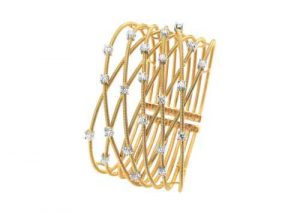 Our list of over 50,000 clients will do the talking for us! Out of all the jewelry stores in Monmouth County, Jewelry Design Gallery uses our love and passion for everything that sparkles to not only sell amazing designer jewelry, but to also educate, repair and create standout custom jewelry pieces using the latest in CAD/CAM technology!
In the business since 1984, Jewelry Design gallery started out in the jewelry business as first a repairs and wholesaler shop, but over time, we've taken off among all of Monmouth County. Our love and passion for everything that sparkles and shines has cultivated a following and gleaming reputation among the jewelers in NJ. Each member of our staff is passionate about helping our clients to leave with the best pieces of jewelry that speaks to their hearts.
Designer Jewelers: Meet the Best Jewelers In NJ
If you've done your research, you know that among all the Google hits of fine jewelry stores near me, JDG is second to none!
We offer:
A large selection of designer, fashion, and diamond jewelry made by some of the biggest names in jewelry
Jewelry and watch repairs— from chain repairs to stone setting and re-setting, we care for your jewelry as if it were our own, restoring it back to new
Watches for sale
Custom- made pieces
If you're really sparked by the idea of custom-made jewelry, you've come to the right Jewelry store! Our expert staff uses the latest in CAD/CAM and 3-D printing technology to create jewelry pieces that are jaw dropping and outstanding. All it takes is your inspiration and our perspiration and persistence to build your custom ring, bracelet, necklace and more.
To learn more about our custom-jewelry making services, call us today at 732-536-1184. We look forward to helping you sparkle and shine!