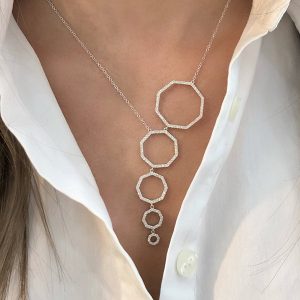 There's no question where the best place to buy jewelry is if you live in Marlboro NJ. The Jewelry Design Gallery is Monmouth County's premiere destination for everything from statement pieces to custom designs and repair services.
Our family-run business is known for quality work, attentive customer experience and a passion for everything aspect of the jewelry business. With years of expertise, we're regarded as the go-to source for our expert knowledge, sophisticated styles and visionary designs.
From the simple gold necklace to extraordinary heirloom recreations
If you live in Marlboro NJ, you don't have to travel far to discover artistic designs, craftsmanship, and world-class jewels and metals. Whether you're shopping for a classic gold necklace or hope to turn your grandmother's outdated ring into something more modern, we're here for you.
Have something in mind? Stop by our gallery with a blank slate, and we'll craft a masterpiece. Up for browsing? We're certain that our selection of statements rings, bracelets, earrings and more will catch your eye.
We are a full-service jewelry store offering:
Custom jewelry with stunning metals and gems
Expert jewelry design by our certified CAD/CAM designer
Certified appraisals done by our GIA-certified diamond appraisers on staff
Master repairs for all types of jewelry and watches
Fashion jewelry and trending styles
Exceptional bridal jewelry pieces, including consultations on diamonds, wedding bands and engagement rings
Discover why we're known as the best place to buy jewelry and trusted with repairs. Click through our website to see what could be, then stop in and make it a reality! If you're near Marlboro NJ, visit us at Towne Pointe Shopping Center, 357 Route 9 South in Manalapan Township anytime.