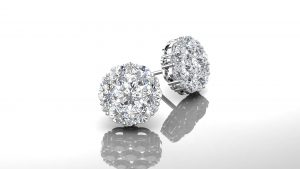 Looking to explore the latest trends in diamond earrings and hoop earrings. While hoops continue to be an all time favorite, the diamond stud follows suit but extraordinary is the trend. Our full-service jewelry store has the largest fashion forward selection in Central New Jersey with a wide range of dangling, hugging, climbing, diamond earrings and exotic earring styles.  A full-service jewelry shop, we have been in the jewelry business for over thirty-one years!

We offer:
Vast selection of hoop earrings and diamond stud earrings
Custom-made jewelry: we can make a custom pair of earrings using the latest technology as we walk you through the process of matching your unique style!
Repairs: Broken diamond hoop earrings? Bring them to us!
Lost one earring? Bring in your earring and we can replace and make from scratch a match for any pair of earrings you desire!
Premium service and care: With over 45,000 customers, we've built a reputation and put our name behind everything we do!
Appraisals: Want to appraise your diamond stud earrings? Our certified gemologist will give you an expert appraisal. We work with many of the top insurance agencies for insurance appraisals
Exquisite Diamond Earrings with Original Designs
We sell the highest-grade diamonds all accompanied by a certification from the most reputable and respected grading laboratories: The Gemological Institute of America (GIA), the American Gem Society (AGS) and the European Gemological Laboratories.
If you want to create a custom pair of diamond hoop earrings or looking to find the perfect pair, visit our store for a unique shopping experience where you'll find earrings, from classic to the elaborate styles.
Please visit our store located in the Towne Pointe Shopping Center on Rt. 9 S in Manalapan, NJ, or call us today to schedule an appointment 732-536-1184.